Vita Italian Restaurant & Pizza (Cooper City)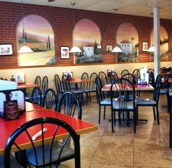 ***** Vita Italian Restaurant & Pizza, 10014 Griffin Road, Cooper City, Florida 33328 (954) 434-8422.
Vita is a "mom & pop" red-sauce Italian joint. Vita has been around for something like 27 years…let's call this one, a good-steady neighborhood joint. Take a look at its website www.vita8422.com for menu/prices/photos.
The other night I did a pizza, veal parmigiana, shrimp marinara, chicken marsala…you know the deal, soup or salad–entree with pasta side–garlic knots. The food is pretty good…like I said before, "neighborhood" is the key word here. The prices are very reasonable and the service is as freindly as can be.
So…if you live or work in Vita's neighborhood, you now know about a good local joint where you can have a nice lunch or dinner or takeout stuff from.
Vita is open Monday-Thursday 11am-10pm, Friday-Saturday 11am-11pm, Sunday 11am-9pm.