Big Joe's Burgers and Wings (Boca Raton)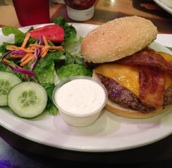 ***** Big Joe's Burgers and Wings, 2831 North Federal Highway, Boca Raton, Florida 33431 (561) 447-7995.
If you take out your Webster's and look under "hole in the wall" burger joint…you will find Big Joe's Burgers and Wings in Boca Raton. The joint seats something like 10, that's right 10…and is located in a non-descript (aren't they all) strip center on Federal Highway. Talk about crappy locations…This is what "we" call a destination spot.
Anyway…Big Joe's is my kind of a joint. At this stage of this game, checkout its website www.bigjoesburgers.com for menu/prices.
Let me make this real simple…this joint is GREAT. The menu has loads of soups, burgers, sandwiches, wings…not to mention daily specials and desserts.
I recently did a taste-test of a bacon cheeseburger, chicken caesar salad, honey garlic chicken wings, blackened mahi mahi sandwich…absolutely delicious. Now…I don't know how Big Joe's makes them, but this joint serves mashed potatoes (you do remember Vice President Dan Qualye, don't you?) that are absolutely incredible…by the way, the mashed potatoes come in "various flavors/combinations) I had the plain-old ones. The joint also has a lineup of home-made desserts…I did the chocolate peanut butter pie, great.
You absolutely-positively want to try this joint. Like I said before, it is a hole-in-the-wall—in a crappy strip center…so set your GPS or call ahead for directions.
Big Joe's is open Monday-Friday 11am-8pm.