J. Alexander's (Boca Raton, Fort Lauderdale, Palm Beach Gardens, Plantation, Tampa, Orlando)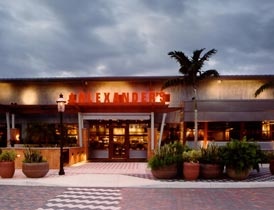 ***** J. Alexander's, 1400 Glades Road, Boca Raton, Florida 33431 (561) 347-9875.
J. Alexanders is an "American Style" national chain joint…over the years, I have eaten in the Boca Raton location twice and once in the Plantation joint. Check J. Alexander's website www.jalexanders.com for menu/prices/locations.
Let's do– "chain pecking order" on food quality…from the bottom-up, we got (joints like most of the) You Name It Sports Bar, Applebee's…then we got guys like Friday's–Ruby Tuesday's–Chili's, then we got players like Houston's-The Cheesecake Factory…just roughing this out for you.
I'm gonna put J. Alexanders one notch down the old totem pole from Houston's and The Cheesecake Factory
J. Alexander's menu is loaded with appetizers, salads, burgers, sandwiches, meat-seafood-chicken entrees. As for price-point, roughly in the same range as Houston's or The Cheesecake Factory.
Yesterday's outing netted me…bacon cheeseburger, crab cakes, roast chicken, babyback ribs (there were 4 of us) and everything was just fine.
To be perfectly honest with you, when I am "thinking" American-Style stuff, I am not usually "thinking" J. Alexanders. Personally, in the chain-category, I prefer The Cheesecake Factory…just off the top of my head, I can name three "mom & pop" American-joints which "get" my business faster than any chain out there…in no particular order, J. Mark's Restaurant & Bar (12/7/08)–Big Pink Restaurant (7/14/08)–Granger's Bar & Grill (2/9/08).
J. Alexander's is open 7 days a week for lunch and dinner.