California Pizza Kitchen (Boca Raton, Coral Gables, Fort Lauderdale, Miami, Palm Beach Gardens, Pemborke Pines, Wellington, West Palm Beach)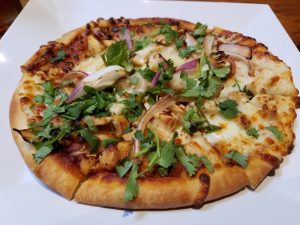 ***** California Pizza Kitchen, 6000 Glades Road, Boca Raton, Florida 33431 (561) 368-2805.
California Pizza Kitchen is a "national" casual-Italian restaurant chain…it has joints all over South Florida.
Check California's website www.cpk.com for menu/prices/locations.
Let's make this one real simple…the food at your favorite neighborhood "mom & pop" pizza joint is probably better than the stuff that California Pizza Kitchen makes. That said, California's food is not half-bad…it has a nice selection of soups, salads, pastas, pizzas, pastas, sandwiches, meat/seafood/chicken entrees…in addition the prices are quite reasonable.
Over the years, I have eaten at "many" locations, the most recent lunch outing…the Boca Raton joint at the Town Center Mall…let's just say, that yesterday's torrential-rains made California Pizza Kitchen an "easy pick" as the family was on a shopping trip (spree).
California Pizza is open Monday-Saturday 11am-10pm and Sunday 11:30am-8pm.