Rainforest Cafe (Sunrise & Orlando)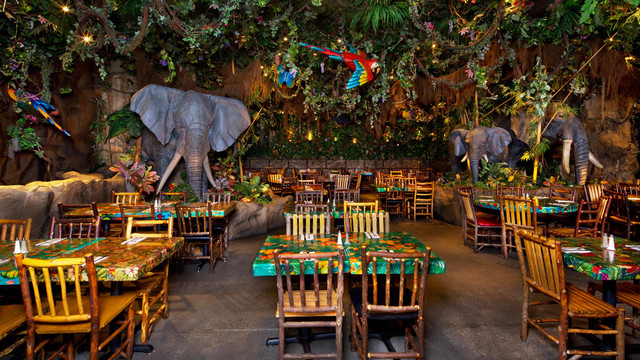 ***** Rainforest Cafe, 12801 West Sunrise Boulevard, Sunrise, Florida 33323 (954) 851-1015.
Let me start by saying…if you aren't feeding children ages 2-7, Rainforest Cafe is not for you. This is a national chain of "American-Style" joints which has a handful of locations throughout the United States. My most recent outing had me at the Rainforest in Sawgrass Mills, but over the years I have been at its other 2-South locations which are both at Disney World in Orlando.
Rainforest is a TGI Friday's with a RAINFOREST MOTIF…Robotic animals…water-thunder-lightening sound-effects. Trust me, you'll know that you are in Sawgrass or Orlalndo, but those 2-7 year olds will enjoy the action. They will also enjoy (but you won't) the huge souvenior area which has all kinds of clothing, dolls, and other assorted Rainforest crap.
As for the food…think TGI Friday's menu…Ruby Tuesday's menu…Applebee's menu…similar price-points. This is a TOURIST ATTRACTION. The joint in Sawgrass also has an enormous "ball-crawl" to keep the little tykes busy before and after eating-shopping.
The food is tourist-ok…like I said before think TGI Friday's and you'll know what the food is all about.
Take a look at Rainforest's website www.rainforestcafe.com for menu/prices/locations/details.
Just so you know, the reason for old Jeff Eats recent Rainforest visit…he was entertaining his charming niece and nephew who literally ran him into the ground.
The joint is open 7 days a week for lunch and dinner.