Coral Bagels (Coral Gables)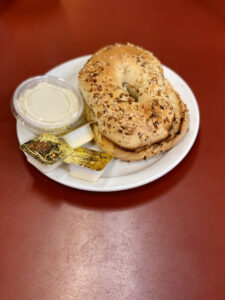 ***** Coral Bagels, 2750 Southwest 26th Avenue, Coral Gables, Florida 33133 (305) 854-0336.
Coral Bagels has been anound since 1986. This is your "typical" South Florida bagel-deli joint…located in a strip center, borderline seedy, tons of breakfast stuff–sandwiches–deli meats, closed by 4pm.
Nothing special here…good bagels, eggs…but like I said before, TYPICAL.
Nice joint to know about, when you are looking for that everything-bagel with a schmear. Check the joints website www.coralbagels.com for menu/prices/photos.
By the way, Coral Bagels opens Monday-Friday at 6:30am and Saturday-Sunday at 7am.