Dairy Queen (Pompano Beach)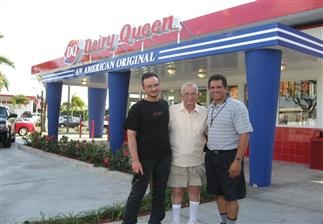 *****  Dairy Queen, 2901 North Federal Highway, Pompano Beach, Florida 33064 (954) 943-8390.
I'm gonna assume that you know what Dairy Queen is…if you don't, too bad for you.
National "soft serve" ice cream chain…stores all over south Florida.
An old one in Pompano Beach recently relocated to a new double lane-drive-thru on Federal Highway…great looking store.
Just so you guys know, Jeff Eats loves-soft serve and Dairy Queen's is off the chart delicious! The joint has a thing called a Blizzard where you can have all kinds of stuff "ground into" your soft serve…I am telling you chocolate soft serve with Heath Bar is the way to go!
By the way, Dairy Queen  also has "things"  like burgers and hot dogs…don't bother. The game is SOFT SERVE ICE CREAM.
You can check Dairy Queen's website www.dairyqueen.com for menu/locations.
Unless you have been living on Mars for something like 75 years…I haven't told you anything that you already didn't know.