Thirsty Turtle Seagrill (Boca Raton, Juno Beach & Port St. Lucie)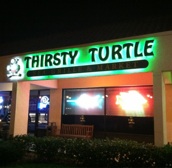 Thirsty Turtle Seagrill, 9908 Yamato Road, Boca Raton, Florida 33434 (561) 852-6244.
Thirsty Turtle Seagrill is a "sports-bar"…dark wood decor, sports memorabilia on the walls, flat screen tvs, pool table, live music (Wednesday-Sunday nights)…there are 3 locations, Boca Raton, Juno Beach and Port St. Lucie. Check the joint's website at www.thirstyturtlefl.com for menu/hours/pictures.
I recently gave the Boca Raton location a shot… The good news, although the menu features "seafood" there are enough appetizers, salads, sandwiches, burgers, wings and meat/chicken entrees  so no-body is going to starve. The bad news is, that after trying the cheeseburger, philly cheesesteak sandwich, wings, clams casino, fried shrimp, bbq ribs, french fries… the food is just passable.
You and I know both know, that most of these "ale house sports-bar" restaurants are not exactly bastions of  great-food. Most of these joints have just "ok" food (microwave-city), pleasant service,  reasonable prices, loads of tvs and are real casual.
 Going in…you know what you are "in for." With that in mind, Thirsty Turtle is open 7 days a week for lunch and dinner.