Doris Italian Market & Bakery (Hollywood, Plantation, Coral Springs, Boca Raton, Pembroke Pines)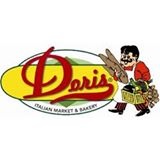 *****  Doris Italian Market & Bakery  *****
The other day, I told you guys about a terrific "market"…The Boys Farmers Market (5/6/09) located in Delray Beach.
Now let me tell you about another terrific "market"…Doris Italian Market & Bakery which currently has 5 locations… Hollywood, Plantation, Coral Springs, Boca Raton and Pembroke Pines…another spot in Sunrise is scheduled to open in the very near future. For full details/addresses check Doris' website at www.dorismarket.com
Just so you know, Doris started out in Hollywood in 1947 as a neighborhood Italian meat-market. Today's locations, are probably 7,500-10,000 sq. ft and have a full range of meats, seafood, baked goods, fresh produce, prepared foods and grocery items. Although it calls itself an "Italian Market & Bakery"…Doris' baked goods and prepared foods are not limited to Italian "style" food…unless  stuff like bbq ribs, tuna salad, shrimp salad, egg salad, chocolate chip cookies are Italian food.
Over the years, my family has shopped countless times at Doris' Boca location…and I have to tell you, that its baked goods and  prepared foods…are outstanding. This joint's cakes, breads, pastries are top-notch…its Italian "dishes" are as good, if not better, than the stuff served by your favorite neighborhood pizza joint.
The way I look at Doris…outstanding joint for baked goods,"take home" food, fresh meat-seafood…by the way, Doris makes a chicken salad which is one of the "best" that I have eaten…As for produce and grocery items, your local Publix is better…Prices?— local supermarket prices.
Doris is open Monday-Friday 8:30am-7pm, Saturday 8:30am-6:30pm, Sunday 8:30am-5pm.