Dubliner Irish Pub (Boca Raton)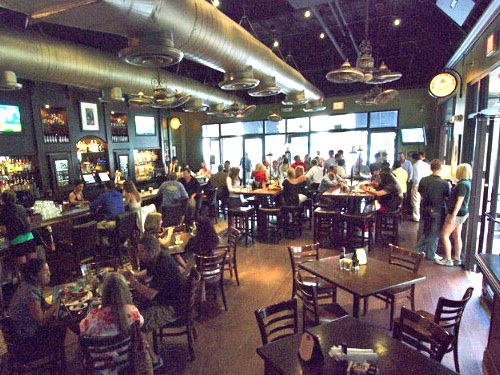 *****  Dubliner Irish Pub, 435 Plaza Real, Boca Raton, Florida 33432 (561) 620-2540.
Personally, I wouldn't give you 5 cents for most of the Irish "pubs" in South Florida…darkly lit-dark wood-beer joints, with mediocre food, at best.
Dubliner Irish Pub located in Boca Raton's Mizner Park…is the exception to the rule. For sure, it has the dark wood interior–and dark lighting… but its food is terrific. A recent outing had me "sampling" prime rib sliders, hamburger, shepherd's pie, french fries and macaroni & cheese…all absolutely delicious. Throw in top-notch djs and bands (Thursday-Saturday) covering the 1960's-2009, reasonable prices/pleasant waitstaff and an out- door dining patio for "people watching" the Mizner Park crowd…and you got a real good joint.
Dubliner's menu has all of the "Irish" standards…plus loads of appetizers, salads, burgers, sandwiches and meat/chicken/seafood entrees. It's got a real nice beer selection and hard stuff.
Dubliner Irish Pub is open 7 days a week 4pm-2am.