Flakowitz Of East Boca (Boca Raton)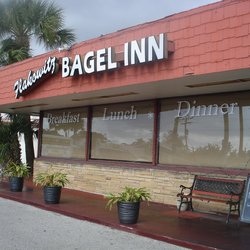 *****  Flakowitz Of East Boca, 1999 North Federal Highway, Boca Raton, Florida 33432 (561) 368-0666.
First…there is another Flakowitz joint in Boynton Beach, which I have yet to try.
Flakowitz is a "bagel-deli" joint that does breakfast-lunch-dinner. For the sake of brevity, let's just say that Flakowitz is better suited for breakfast than it is for lunch & dinner. Good bagels and eggs. As for lunch and dinner, the joint is a bit of a  "stretch."  For sure it has all kinds of appetizers, soups, salads, sandwiches and meat/chicken/fish entrees…but in 2-lunches and 2-dinners, nothing and  I do mean nothing, "rang my bell." 7-nights a week, this joint  features $10.95-dinners which include soup or salad-2 side dishes- entree-coffee & dessert. The joint's luncheon deli-meats are also just passable.
By now you should have the picture…a bagel joint, that doesn't do lunch or dinner particularly well…unless we are talking price.
So…we go to Flakowitz Of East Boca for breakfast…and we go elsewhere for lunch and dinner…just that simple.