Burger King (Sunrise)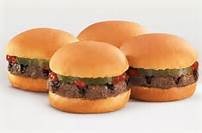 *****  Burger King, 1280 West Sunrise Boulevard (Sawgrass Mills), Sunrise, Florida 33323 (954) 846-9023.
Now, I don't want to get all nostalgic with you…but as a kid and teenager growing up in Brooklyn I was literally raised on Nathan's hot dogs and french fries…and White Castle's sliders. Before I go any further, nobody and I mean nobody makes french fries as good as Nathan's…
Now, Let's talk about Burger King.
Yesterday, I was "shopping" in Sawgrass Mills…actually, my wife was shopping and I was trying to kill 2 1/2 hours between the food court and sleeping/reading at Books A Million. To make a long story short…I gave Burger King a shot, trying its new product "BURGER SHOTS" which are sliders that come 2-to a package for $1.39 and $1.64 with cheese. Not bad, not bad at all. I ordered 4  cheese-burgers covered in ketchup/mustard and topped with a pickle slice and like I just said, they were pretty decent.
Just so you know, until yesterday I couldn't even hazard a guess as to the last time I'd eaten in a Burger King or for that matter a McDonald's or Wendy's…I will tell you, that for years I had "wondered" why these 3 chains never added sliders to their menus…the same goes for hot dogs.
One other quick thought…the reason why White Castle's sliders are square and have little holes in them…to save grill space and the holes allow the slider to cook-through without turning it over.
The next time you want a good-cheap slider…think Burger King.
The Burger King in Sawgrass Mills is open Monday-Saturday 10am-9:30pm and Sunday 11pm-6pm.