Pine Garden Chinese Restauarnt (Boca Raton)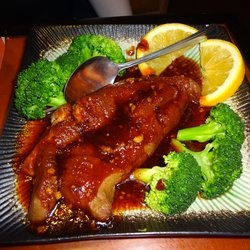 *****  Pine Garden Chinese Restaurant, 1668 North Federal Highway, Boca Raton, Florida 33432 (561) 395-7534.
Not sure how long this "mom & pop" Chinese joint has been around…but I have been eating there for something like 16 years. A few years ago, the origianl owner Maye sold to the current owners,  but the good food-good prices-very pleasant service has been a constant.
The menu has all of the "staples"…and all of the "specials"-soup/egg roll/rice/main dish/dessert $9.95  that your little hearts could desire.  Like I said before, I have been eating this joint's won-ton soup, egg rolls,  pan fried dumplings, roast pork fried rice,  bbq ribs, sweet & sour pork, general tso's chicken,  shrimp with black bean sauce, pepper steak, vanilla-strawberry-chocolate ice cream-pineapple chunks…for years, and not  once, had to go to Delray Medical Center or Boca Raton Community Hospital to have my stomach pumped.
This is a real-good neighborhood Chinese joint.
 Pine Garden is open 7 days a week for lunch and dinner.