Two Georges Waterfront Grille (Boynton Beach)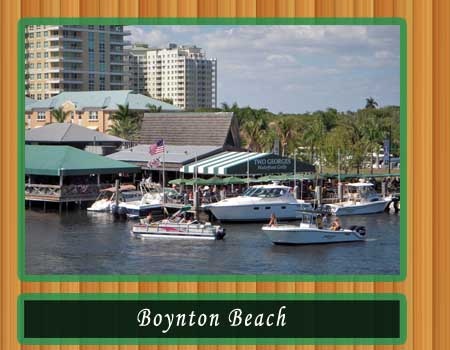 *****  Two Georges Waterfront Grille, 728 Casa Loma Boulevard, Boynton Beach, Florida 33435 (561) 736-2717.
The first thing that you guys got-to-do…check Two Georges' website www.twogeorgesrestaurant.com for menu/prices…there also loads of pictures which "alone" should convince you to give this "American-Style" joint a shot.
Let's call Two Georges a "package deal"…The joint, which has been around since 1957 is an open-air bar-restaurant located on the Intracoastal…DECENT FOOD. DECENT SERVICE. DECENT PRICES. DYNAMITE AMBIANCE/LOCATION/TIKI DECOR.
Two Georges menu is loaded with appetizers, salads, burgers, sandwiches, meat/chicken/seafood entrees. Like I said before, the food is just-OK…so don't expect gourmet stuff. This joint is a tee shirt/shorts ensemble place. This is the type of restaurant where you go for a casual meal when you are feeling real-easy.
Two George's is open 7 days a week 11am-2am.
One final thought…Two Georges has a gigantic following. Parking stinks, so think-valet.