Coco's Cafe (Delray Beach)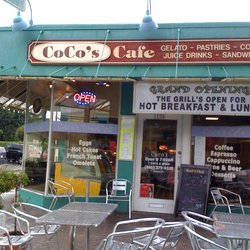 *****  Coco's Cafe, 1236 East Atlantic Avenue, Delray Beach, Florida 33483 (561) 279-9328.
Let's call Coco's Cafe a "hole in the wall" diner.
This terrific joint is open 7 days a week from 7am-10pm. Its menu is packed with breakfast-stuff, burgers, subs, hot dogs, sandwiches, salads…not to mention, 24 gelato flavors. Delicious food. Very reasonable prices. Extremely pleasant service. The joint even has a couple of outdoor tables, if dining al fresco is your bag.
If you wear anything but tee shirts/shorts, you are going to be over-dressed.