Woodro Kosher Deli (Hewlett, New York)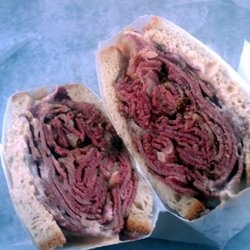 *****  Woodro Kosher Deli, 1342 Peninsula Boulevard, Hewlett, New York 11557 (516) 791-4034.
I know that Jeff Eats is suppose to be about SOUTH FLORIDA JOINTS…but, every so often, I come across terrific-joints in other areas which I think that you should know about. On this one, let's call it "reverse-osmosis"…say hello to the Woodro Kosher Deli located in Hewlett, New York.
Let me make this review real simple…this joint, which has been in business for something like 50 years, makes some of the best "kosher-deli" stuff that I have ever eaten. The Woodro which seats something like 150, has a menu packed with appetizers, sandwiches and meat-chicken entrees. A recent "taste-test" had me sampling this joint's brisket, pastrami, corned beef…not to mention, potato knish, hawaiian chicken salad, matzoh ball soup and roast chicken. Everything and I do mean everything, was absolutely dynamite.
All I can tell you, is that the Woodro Kosher Deli is one of the best delis that I have ever eaten in. The joint is open 7 days a week for lunch and dinner.
Anyway…you now know about an absolutely terrific "kosher deli" located in Hewlett, New York.