Sicilian Oven (Lighthouse Point)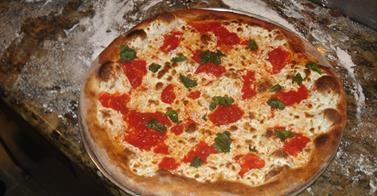 *****  Sicilian Oven, 2486 North Federal Highway, Lighthouse Point, Florida 33064.
Got an absolutely terrific "wood fired Italian" joint for you…Sicilian Oven, located in Lighthouse Point. 
Gave this joint a shot last night and got-to tell you, that the food is dynamite. The menu is packed with appetizers, salads, pastas, ciabattas, wings and pizzas. My "taste test" (somebody has to do it)… sicilian salad ( a combination of mixed greens, roasted peppers, roman tomatoes, red onions, garbanzo beans & something like 5 other ingredients), wood oven roasted chicken wings, wood fired pizza, "no pasta" lasagna (eggplant & vegetables), meatballs and fried calamari…everything was delicious.
Sicilian Oven is owned by two guys, Andrew and Ralph. From what I can tell, Andrew "handles" the action in the open-kitchen and Ralph "handles" the dining area. Although the joint was packed, these boys were efficiently cranking-out some heavy duty orders. Sicilian Oven is a real modern looking joint, with just enough flat-screen tv sets to make it interesting for sports-afficianados. The prices are neighborhood "pizza joint" prices. Service is excellent & your tee shirt/shorts' ensemble will work here.
Just so you know, although Sicilian Oven has only been open for something like 4-months, it already has a loyal-following… Giving credit where credit is do, Sun Sentinel food critic Judith Stocks gave the joint **** (four stars: excellent) on March 13, 2009…so, old Jeff Eats can't claim to be the "discoverer" of this one…as a matter of fact, it was Stocks' review that alerted me to this joint.
Give Sicilian Oven a try, it really is that good. For menu/prices, check its website www.thesicilianoven.com.
Sicilian Oven is open Monday-Saturday 11:30am-10pm and Sunday 4pm-10pm.