Coconuts (Fort Lauderdale)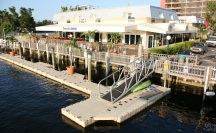 *****  Coconuts, 429 Seabreeze Boulevard, Fort Lauderdale, Florida 33316 (954) 525-2421.
This "American-Seafood" joint should be featured by the Florida Chamber of Commerce…after looking at Coconut's website www.coconutsbahamagrill.com I challenge you to give me even-one good reason (forgetting hurricanes) why someone wouldn't want to live in South Florida…in addition to menu/prices, there is a handful of photos of this real-casual, indoor/out-door patio joint which is located right on the Intracoastal.
Just so you know, Coconuts' menu "features" SEAFOOD…that said, there are enough meat-chicken items, so "nobody" is going to starve. Service is good. As for prices, not exactly cheap, but nothing that will require a second-job. The menu changes daily…with various specials.
A recent "taste-test" had me sampling conch fritters, crab cakes, teriyaki chicken, lobster roll, hamburger…all very good.
Coconuts has been in business since 1980. If memory serves me correctly, the folks now-running the joint are not the original owners…in any event, Coconuts is a terrific-casual joint for lunch or dinner. By the way, if you wear anything more than a tee shirt/shorts' ensemble you will be over-dressed.
Got an idea for you…bring your "out of town" guests to Coconuts and while dining, ask them how their Mayor Bloomberg is doing.