Teddy's Wing Shack (West Palm Beach)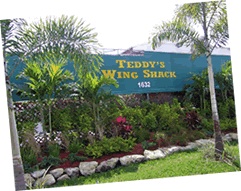 *****  Teddy's Wing Shack, 1632 South Military Trail, West Palm Beach, Florida 33415 (561) 642-7067.
Got a really good–really casual–really reasonably priced "wing" joint for you…Teddy's Wing Shack in West Palm Beach. Check Teddy's website www.teddyswingshack.com for menu/prices…there are also loads of pictures that will give you some idea as to what this joint's decor is all about.
Teddy's menu is loaded with appetizers, salads, burgers, sandwiches, meat-seafood-chicken entrees…the joint's wings come either grilled or fried and 20-different "flavors" are available.
Teddy's doesn't do "hard" liquor but has beer and tv sets…there is also patio seating.
Teddy's is my kind of a joint…like I said before, real-casual…so your tee shirt and shorts will do just fine. When you check Teddy's menu, take a look at all of the "specials" that it has… like a 1/4 lb hamburger for $3.95 or 1 lb of bbq ribs & 2 sides for $14.95. The food is real good…a recent "sampling" of grilled honey-mustard wings, cheeseburger, waffle fries, onion rings, bbq ribs, sauteed mussels, grilled mahi was A-OK. The service is as pleasant as can be.
Nothing fancy here, but I think that you will really enjoy this one…
Teddy's is open Sunday-Thursday 11am-midnight and Friday-Saturday 11am-1am.