Palm Beach Grill (Palm Beach)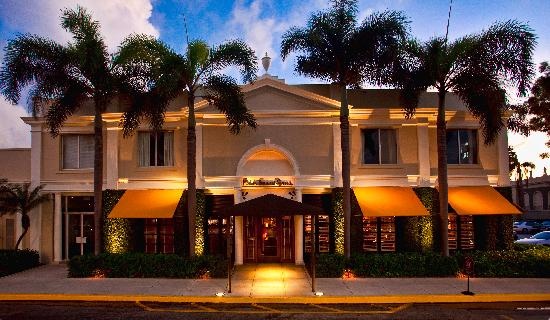 *****  Palm Beach Grill, 340 Royal Poinciana Way, Palm Beach, Florida 33480 (561) 835-1077.
Palm Beach Grill is a "semi-upscale" American-style joint. So…you can sound smarter than your friends, Palm Beach Grill is owned/operated by the Hillstone Restaurant Group which also owns/operates Houston's. The joint's website www.hillstone.com has menu/prices…there is also a photo which will give you some idea of what Palm Beach Grill looks like. Like I said, "semi-upscale" but you don't have to get all dolled-up to eat in this joint.
As for the menu…kind of limited. As for prices, a tad too pricey for me…a cheeseburger & french fries will set you back 15 bucks…a hot dog runs $12, bbq ribs $28 and grilled snapper $35…sides are $6 and desserts $9. As for the service, excellent.
I really enjoyed Palm Beach Grill's overpriced food. Now…I don't know if it was because I already KNEW, but while eating…the joint reminded me of Houston's with a slightly different menu.
Palm Beach Grill is open for dinner 7 days a week.