Carving Station Buffet (Lake Park)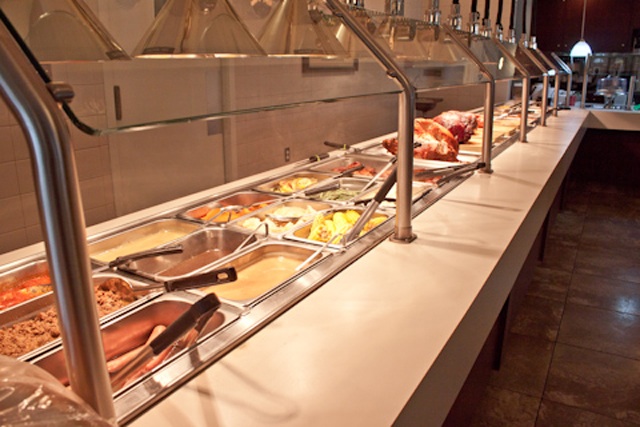 *****  Carving Station Buffet, 720 US Highway 1, Lake Park, Florida 33403 (561) 842-7791.
Let's talk buffet…found a really good "all you can eat" American-style buffet for you…Carving Station Buffet in Lake Park. Take a look at this joint's website at www.carvingstationbuffet.com for menu/prices/photos/details. Breakfast runs $6.49 (includes coffee)…Salad bar (only) lunch runs $5.79…Lunch runs $7.79…Dinner runs $9.39. Just so you know, that "all you can eat" doesn't include desserts which go for $2.69 each and beverages which will run you $1.89 a pop (free refills). One other item, the joint is open 365 days a year for lunch and dinner and only does breakfast on Saturday and Sunday.
Gourmet food? Now let's not get stupid here…but, for a cheap-buffet joint, the food is very good. "Nice" selection…things like, turkey, ham, lamb, roast beef, fried chicken, broiled fish…soups, salads, breads. Trust me, you will find plenty of things to stuff your face with.
Like I said, "nice" selection…decent enough food. Very clean. Very pleasant wait-staff.
Every so often, joints like this are a real-nice change of pace from your full-service restaurants. If you enjoy eating 10 strips of bacon and 6 sausage links with your eggs, Carving Station can handle you very nicely.