Casa Maya Grill (Deerfield Beach)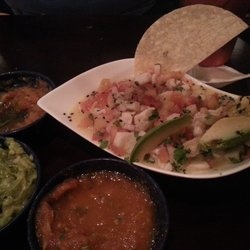 *****  Casa Maya Grill, 301 SE 15th Terrace, Deerfield Beach, Florida 33441 (561) 570-6101.
Got a real good-cheap Mexican joint for you…Casa Maya Grill in Deerfield Beach. Absolutley nothing fancy here…just, good food, big portions and a menu loaded with burritos, tacos, enchiladas and fajitas … with the most expensive item in the whole joint running 14 bucks. For menu/prices check the joint's website at www.casamayagrill.com.
A recent outing had me "sampling"  some very good…shrimp fajitas, spinach enchilada, grilled steak and grilled chicken taco.
Got one problem with Casa Maya… while eating, had a flashback to 1966 and saw myself getting ready for the NYS Spanish Regents Exam…scary stuff. To this date…still have dreams (nightmares) about that Spanish teacher, Mr. Cohen (go figure) and how he was going to fail me, unless I passed the Regents.
Anyway…Casa Maya is open for lunch and dinner…Monday-Friday 11:30am-10pm and Saturday-Sunday noon-10pm.