Nathan's Famous (Sunrise)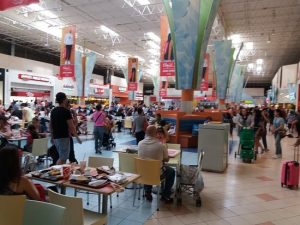 Nathan's Famous, 12801 West Sunrise Boulevard (Sawgrass Mills Mall), Sunrise, Florida (954) 846-1394.
This past Sunday, I visited the Sawgrass Mills Mall in Sunrise. While my "better-half" shopped, I killed 3 hours (2:45pm-5:45pm) reading books in Books A Million and seeing how many free-toothpick bourbon chicken samples I could devour.
Sawgrass has 2 large food-courts…with the usual mall-tenants like, Sbarro, Panda Express, Chicken Connection, Subway, Burger King, Auntie Anne's…One quick observation. Except for Nathan's Famous, everyone of the food-outlets had beautifully "show-cased" food… and energetic-nimble workers "banging" orders out like crazy.
There are things that I think I know and things that I know I know…and I know for sure that Nathan's (the chain) which has been around since 1916, serves the best hot-dogs and french fries in the world.
The Sawgrass Nathan's is an absolute disgrace. The workers are slower than the zombies that star in those Night Of The Living Dead flicks. While watching, there were no "delicious smelling" hot dogs "sizzling" on the grill (as a matter of fact, there was nothing on the grill)…there were two lines, one filled with frustrated people waiting to place an order and another, filled with frustrated people (standing with receipts) waiting for their food. In the span of 20 minutes, I actually watched 17 people walk-away without placing orders, because they obvioulsy didn't want to play Rip Van Winkle while ordering-picking up fast-food.
Take a look at Nathan's website at www.nathansfamous.com for menu/details. This fast-food chain has something like 234 outlets…Whoever owns the Sawgrass location…you got "gold" but you have absolutely no idea how to run a fast-food joint.