Bono's Bar-B-Q & Grill (Stuart)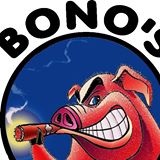 *****  Bono's Bar- B- Q & Grill, 2290 SE Federal Highway, Stuart, Florida 34994 (772) 283-0078.
Bono's Bar- B- Q & Grill is a "casual-very reasonably priced bbq" joint located in Stuart, Florida. Take a look at its website at www.bonosstuartfl.com for menu/prices.
Bono's menu is loaded with appetizers, salads, sandwiches, burgers, wings, pork-chicken-seafood entrees. In addition to serving lunch and dinner, Bono's does breakfast.
Now this may get confusing, but follow me…Bono's is NOT an extreme bbq joint…its food is just right, nothing too smokey or too southern-style.
Anyway, you'll have to try Bono's for yourself, to understand what I am yapping about.
A recent "taste test" of baby-back ribs, bbq turkey, bbq chicken, grilled shrimp, grilled chicken breast, french fries, onion rings…literally had me in pig heaven. Like I said before, "not overly smoked and just sweet enough" is Bono's bbq game.
Real casual place. Very good food. Very reasonable prices. Very pleasant service.
Bono's is open for lunch and dinner Sunday-Thursday 11am-9pm and Friday-Saturday 11am-10pm. Bono's serves breakfast Monday-Friday 6am-10:30am and Saturday-Sunday 6:30am-11am.