La Borgata Ristorante & Pizzeria (Palm City)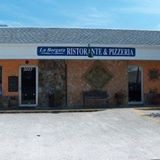 *****  La Borgata Ristorante & Pizzeria, 3227 SW Mapp Road, Palm City, Florida 34990 (772) 288-2121.
Got an absolutely "dynamite" neighborhood-mom & pop Italian joint for you…that is, if you live in Palm City….La Borgata Ristorante & Pizzeria. Check the joint's website www.laborgataristorante.com  for menu/details…there are also loads of photos, so you'll know what La Borgat's inside/out-door dining areas look like.
The food at this joint is terrific. A recent outing had me stuffing my face with fettuccini alfredo, cheesesteak stomboli, ham & cheese calzone, pizza, shrimp scampi, veal piccata and chicken parmigiana…all at neighborhood joint prices.
I think by now, regular readers know that I "frequent" a ton of Italian restaurants …for sure, I have eaten my fair share of veal parmigiana and countless garlic knots…and I got-to-tell you, that La Borgata food is heads and shoulders over most of the neighborhood-joints that I have "taste-tested."
If you live near La Borgata, you now know about a Italian Restaurant that you defintely want to try.
La Borgata is open for lunch Monday-Friday…and dinner 7-days a week