Bogart's Bar & Grille (Boca Raton)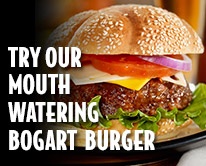 *****  Bogart's Bar & Grille, 3200 Airport Road, Boca Raton, Florida 33431 (561) 395-4695.
Got something "unique and different" for you…Bogart's Bar & Grille which is an "American Style" joint…located in Muvico Palace 21…that's right, this "almost" semi-upscale joint is located in a movie theater.
Just so you know, you don't have to "go to the movies" to eat in this joint…That said, my best guess, is that most people who eat in Bogart's eat there before or after a movie. Now…I called this an "almost" semi-upscale joint, but for "our" purposes think-Cheesecake Factory and you'll have a real-good idea as to what this joint is all about. Take a look at Bogart's website www.bogartsofboca.com for menu/prices.
The other night, I caught that Clint Eastwood film "Gran Torino" and then had dinner in Bogart's. I had a reservation…and would suggest that if you plan on trying this joint, that you also have one…a ton of people already know about Bogart's. By the way, I didn't care for the picture, but that's a story for another day.
Now let's talk food…the menu is loaded with appetizers, soups, salads, sandwiches, burgers, pizzas, meat/seafood/chicken entrees and desserts. The "taste-test" (there were 6 of us) of pork potstickers, chicken lettuce wraps, meatballs, onion straws, french fries, macaroni & cheese, caesar salad, beef sliders, fried chicken, shrimp florentine, grilled porkchops, chocolate cake & vanilla ice cream…worked-out just fine. The food-portion size-service… is Cheescake Factory quality. The prices are a drop higher than Cheescake's, but nothing too terrible. By the way, I checked the "lunch menu"…it is a limited menu, but the prices are "very" reasonable, more in-line with T.G.I. Friday's price-points or your favorite neighborhood bagel-deli.
Like I said before…although, Bogart's is located in the theater, you don't have to buy a movie ticket to eat in this joint…it has its own entrance. The food is really good…I am assuming that you have eaten in a Cheesecake Factory as a point of reference…handsome-casual decor, good food, large portions, good service, reasonable prices.
One other observation…based on what Muvico gets for a large Coke and a large popcorn, Bogart's is actually a BARGAIN.
Bogart's does lunch Monday-Friday 11am-3pm and dinner 7 days a week.