De Pietro's Pizzeria & Restaurant (West Palm Beach)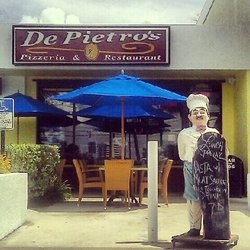 *****  De Pietro's Pizzeria & Restaurant, 2550 Okeechobee Boulevard, West Palm Beach, Florida 33409 (561) 697-4992.
Got a  real-good NEIGHBORHOOD "mom & pop–red sauce Italian" joint for you. Let me send you to De Pietro's website www.depietrospizzeria.com  so you will know what its menu/prices are all about. Nothing fancy here, so your tee shirt and short's ensemble will work well at this joint.
Just as you would expect, De Pietro's menu is loaded with appetizers, salads, pastas, soups, chicken wings, subs, pizzas and meat/seafood/chicken entrees. Now for my taste-test (don't get "sick here" there were six of us)…fried ravioli, pizza, calzone, veal parmigiana, shrimp fra diavolo, eggplant parmigiana, fried calamari, penne alla vodka, meatballs and spaghetti…everything was right on the money.
De Pietro's is a "neighborhood" joint…the bet here, is that De Pietro's is probably as good, if not better than most of the joints in the area…So, if you live near De Pietro's…give it a try and just- maybe you'll have a new Italian restaurant to eat-in/take-out from.
De Pietro's is open Monday-Saturday 11am-10pm and is closed on Sunday.