Golden Chopsticks (Fort Lauderdale)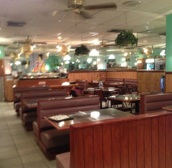 *****  Golden Chopsticks, 4350 North Federal Highway, Fort Lauderdale, Florida 33308 (954) 776-0953.
Golden Chopsticks is a good  NEIGHBORHOOD CHINESE joint…operative word here, NEIGHBORHOOD…like you live in the neighborhood…
A recent taste-test of wonton soup, bbq ribs, pan fried dumplings, egg rolls, roast pork fried rice, sweet and sour chicken and shrimp with Chinese vegetables was just fine…
You know exactly what this joint looks like…there must be a "master-mold" somewhere…The menu is loaded with "specials" and combination plates.
Like I said before, if you live in the NEIGHBORHOOD, you now know about a good joint for eat in/take-out. Golden Chopsticks is open Monday-Friday 11:30am-11pm and Saturday-Sunday 12:30pm-11pm.