Little Hoolie's Sports Bar & Grill (Miami)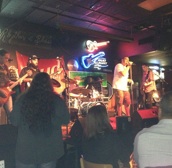 *****  Little Hoolie's Sports Bar & Grill, 13135 SW 89th Place, Miami, Florida 33176 (305) 252-252-9155.
Little Hoolie's is a "neighborhood sports bar" located in Miami.  Let me send you to this joint's website www.littlehoolies.com for menu/prices/entertainment schedule.
Little Hoolie's has the "typical"…bar–gazillion flat screen tvs– menu loaded with appetizers, salads, burgers, sandwiches,  wings, pastas, meat/fish/chicken entrees. The food is good…the prices very reasonable…the service is just fine.
Just so we are straight…if booze-tvs-food were the "game" here, this would be a joint for NEIGHBORHOOD FOLKS ONLY. But… Little Hoolie's has something going for it, that makes it a "destination" spot for others on Friday and Saturday nights…that "something"… the joint hosts some of the best cover/and originals bands in South Florida.
A recent visit introduced me to a band, "Mr. Nice Guy" www.mngband.com …and I have to tell you, that my party of 4 had an absolute blast, eating/drinking and listening/dancing to these guys. By the way, I checked the websites of past/future booked bands and Little Hoolie's has talented bands working its stage. There are no cover charges.
So…if you live in the neighborhood, you now know about a real good 7-days a week sports bar. For the rest of you…if you like your sports bar with some dynamite rock 'n roll music, you got Little Hoolie's on Friday & Saturday nights.
By the way, the joint is open 7 days a week 11am-3am.