Pancho's Backyard (Dania)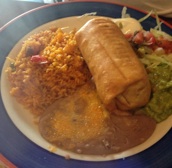 *****  Pancho's Backyard, 433 East Sheridan Street, Dania, Florida 33004 (954) 921-2209.
Let's call Pancho's a "Mexican" joint that also makes a handful of Cuban and Argentinian dishes. Take a look at its website www.panchosbackyard.net for menu/prices.
Pancho's is a casual restaurant…so feel free to wear your tee shirt/shorts ensemble. The menu is packed with quesadillas, empanadas, burritos, tacos and fajitas…you will definitely find something to eat.
This joint's food is very good. I recently "sampled"…pork and shrimp fajitas, fried steak, grilled chicken breast, grilled pork chops and broiled chicken. Prices are reasonable and the service was just fine.
Now mind you… "we" wouldn't be driving 20-30 miles to get to this joint, but if you live in Pancho's Backyard (pun intended)…this is a good bet for a casual/reasonably priced Mexican-latin  lunch or dinner.
The joint is open Monday-Thursday 11am-10pm, Friday-Saturday 11am-11pm and Sunday 2pm-9pm.