Grand Lake Chinese Cuisine (West Palm Beach)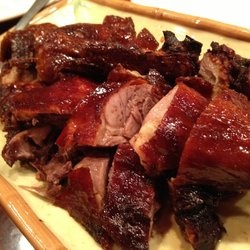 ***** Grand Lake Chinese Cuisine, 7750 Okeechobee Boulevard, West Palm Beach, Florida 33411 (561) 681-1388.
I got a Chinese Restaurant that is absolutely terrific. That's right TERRIFIC.
You have to try…Grand Lake Chinese Cuisine located in West Palm Beach. It's not fancy, but it's not as "dumpy" as most of the joints down here in South Florida. So much for decor.
Grand Lake has a very extensive menu…it's got all of my "1950's Brooklyn" favorites as well as dishes that I am too scared to try. Throw in something like 50 different dim sum…and you got an "extensive" menu.
Just so you know, there were six of us…wonton soup, roast duck noodle soup, egg rolls, pan fried pork dumplings, bbq spare ribs, roast pork fried rice, sweet and sour pork, general tso's chicken, honey garlic chicken, shrimp with garlic sauce, t-bone steak, moo shu pork and peking pork chop. Everything was delicious.
Put Grand Lake on your "must try" list. The joint is open 7 days a week 11am-11pm and its dishes are "neighborhood" prices.