The Grill On The Alley (Aventura)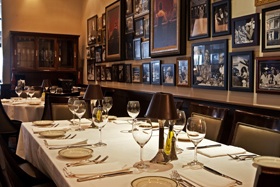 *****  The Grill On The Alley, 19575 Biscayne Boulevard, Aventura, Florida 33180 (305) 466-7195.
The Grill On the Alley is an "American-Style" joint which opened about three weeks ago in the Aventura Mall. Just so we know what we are talking about here, for dinner The Grill gets $41.75 for its 16 oz. Prime NY Steak…$36.95 for its 16 oz. Rib Eye Steak…Crab Cakes $29.95…Pan Fried Dover Sole $42.50…Chicken Pot Pie $18.95…Half-Roasted Chicken $19.50…Side Dishes $4.50-$8.50.
At this juncture, take a look at The Grill's website www.thegrill.com for complete menu/prices/details.
The food is terrific. The "wood" ambiance/decor is terrific. The service is terrific.
If you can "handle" the prices, The Grill is an absolutely great place for lunch or dinner. Its menu is loaded with appetizers, salads, pastas, chicken/meat/seafood entrees and desserts. A recent  lunch-time "taste test" gave flying colors to the hamburger,  chicken pot pie, rib-eye steak and crab cake.
Now for the relatively "good news"…take a look at The Grill's "LUNCH MENU"…suprisingly its pricing is more…shall we say, customer-friendly…with a hamburger/fries going for $9.95, chicken parmesan/pasta for $14.50. Not exactly "Subway" prices, but you won't go for your lungs, either.
The "call" is yours to make. The food-decor-service is terrific. The only stumbling block… could be price.
The Grill is open 7 days a week for lunch and dinner.