J. Mark's Restaurant & Bar (Pompano Beach)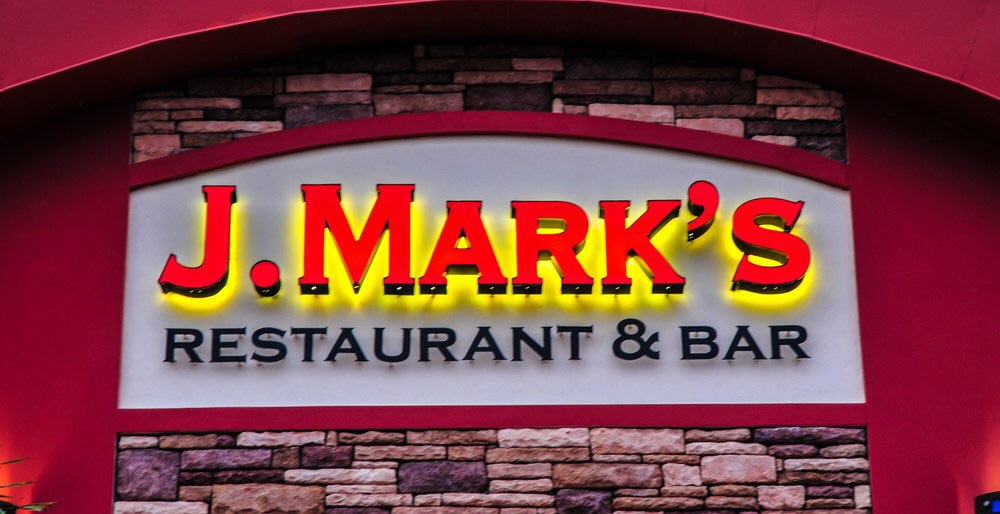 *****  J. Mark's Restaurant & Bar, 1490 Copans Road, Pompano Beach, Florida 33062, (954) 782-7000.
Last night I had dinner at J. Mark's which is an "American-Style" joint located in Pompano Beach. Take a look at J. Mark's website at www.jmarksrestaurant.com for menu/prices/photos…so you will have some idea of what I am yapping about.
 J. Mark's reminds me of Houston's which has five South Florida locations (Palm Beach, Boca Raton, North Miami Beach, Coral Gables and Winter Park) in decor/menu…so, if you are a fan of Houston's or know anything about it, you now have a point of reference to work with. By the way, J. Mark's menu-prices are far more reasonable than those charged at Houston's
Now let's get down to brass tacks…I think that J. Mark's is an absolutely terrific restaurant. J. Mark's is a very handsome looking joint, doing the "stone-wood" look… bar area, dining room, out-door patio for dining. This joint is not a sports bar, but there are enough flat screen tvs to keep you updated on your favorite team.  On Saturday nights a small jazz band works the joint.
J. Mark's menu is loaded with appetizers, salads, pastas, burgers, sandwiches, meat/seafood/chicken entrees and desserts. Now for the taste test…fabulous, no make that sensational mini-cheeseburgers, delicious baby back ribs-roast chicken-orange chicken and grilled tuna steak. The shoe-string french fries were okay, but nothing to write home about. As for service, Clint our waiter was terrific and didn't miss a beat.
Just so we are straight…over the years, I must have eaten in Houston's something like 10 times. I consider Houston's and for that matter The Cheesecake Factory to be the "middle ground" between the "just borderline passable" T.G.I. Friday's-Applebee's-Duffy's-Ale Houses and the "upscale-over priced-pretentious" steak/seafood joints like New York Prime- Morton's- Ruth's Cris-Abe & Louie's.
The bottomline is this…J. Mark's is a terrific restaurant. It looks upscale, but tee shirts/shorts are just fine…the food is very good, the service is excellent…and the prices are extremely reasonable…appetizers run $7.95-$10.95, salads $8.95-10.95, burgers-sandwiches $8.95-$9.95, entrees $10.95-25.95. By the way, those sensational mini-cheesburgers that I previously mentioned, run $9.95 for 4 with french fries…each burger is topped with cheddar cheese-ketchup-pickles-fried onion ring and they are not to be missed.
You now know about J. Mark's. Give this joint a try…I really think that you will enjoy this restaurant. By the way, J. Mark's is open Sunday-Thursday 11am-10pm and Friday-Saturday 11am-11pm.