Conchy Joe's Seafood (Jensen Beach)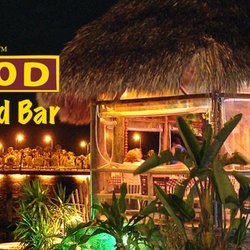 *****  Conchy Joe's Seafood, 3945 NE Indian River Drive, Jensen Beach, Florida 34957 (772) 334-1130.
Got a real good casual-"American" joint for you…I know that that this indoor-outdoor restaurant is called Conchy Joe's Seafood, but this joint in addition to loads of seafood stuff has enough non-fish appetizers, salads, sandwiches, burgers, chicken/meat entrees, so no-one is going to go hungry. Don't believe me?… check Conchy's website at www.conchyjoes.com for menu/prices…by the way, there are also loads of pictures at the site, which will give you some idea of what this joint is all about.
Just so we are straight…we are not talking gourmet seafood or gourmet anything else here…we are talking "SOUTH FLORIDA DINING EXPERIENCE"…tee shirts/shorts…honky-tonk indoor and outdoor deck dining (be smart and sit outside)…decent enough food…large portions… cold sodas and beers…very reasonable prices…easy-going pleasant staff.
Like I said before…Conchy Joe's Seafood card is… decent food with great ambiance. Unless you are a real stuff shirt, there is no reason why you shouldn't have a great time eating at this joint. Conchy is open 7 days a week 11:30am-10pm.