Zona Fresca (Fort Lauderdale & Plantation)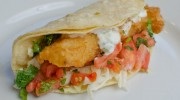 .
*****  Zona Fresca, 1635 North Federal Highway, Fort Lauderdale, Florida 33305 (954) 566-1777…1095 South University Drive, Plantation, Florida 33324 (954) 370-3332.
If "fast-food" Mexican stuff like… burritos, tacos, quesadillas, nachos and totillas are your game… then you have to try Zona Fresca which runs circles around Taco Bell. For right now, there are only 2 locations…Fort Lauderdale and Plantation…Take a look at this joint's website www.zonafresca.com for menu/prices.
Zona Fresca is open 7 days a week from 11am-9pm.