Mike's at Venetia Restaurant & Irish Pub (Miami)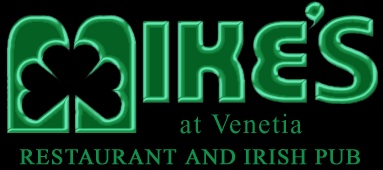 *****  Mike's at Venetia Restaurant & Irish Pub, 555 NE 15th Street, Miami, Florida 33132 (305) 374-5731.
This is a "strange one."
Normally, these Irish Pub joints only see me…if they have some type of "entertainment" going on. For example, over the past 18 months or so, I have seen this guy George Orr's "Hot Rod Live Show" 4 times at four different South Florida- Irish Pubs. For sure, these joints all have the requisite flat screens tvs, but the food served… usually doesn't garner any awards. In addition, I don't look good in green.
Well, the other day…I found an Irish Pub named Mike's at Venetia Restaurant & Irish Pub located in Miami. Let me send you to this joint's website at  www.mikesvenetia.com for menu/prices/photos/details… so you have some idea of what I am talking about.
First of all, Mike's is located on the 9th floor of a condo building (Venetia by the Venetian Causeway)…so if you are scared of riding in an elevator plan on walking-up 9 stories. This joint has indoor seating-outdoor seating-full bar-tons of flat screen tvs (20 to be exact)-a couple of pool tables-no Rod Stewart impersonator shows…and now get this, good food. Mikes' menu is loaded with appetizers, salads, burgers, wings, sandwiches, pastas, meat/seafood/chicken entrees. I recently had a 1/2 lb. cheeseburger which was absolutely delicious…I also "sampled" steamed mussels, a tuna salad sandwich, a steak/grilled onions sub and a chicken marsala entree which were all right on the money. By the way, Mike's prices are neighborhood sports' bar prices.
Now…just so we are straight, we are not talking gourmet stuff here. We are talking…good sports' bar food. So, if you live in Mike's neighborhood, aren't scared of elevators, or don't get winded easily…you now know about a real good sports-bar. By the way, wearing green is optional.
Mike's is open 7 days a week 11am-3am.