Whip 'n Dip Ice Cream Shoppe (Miami)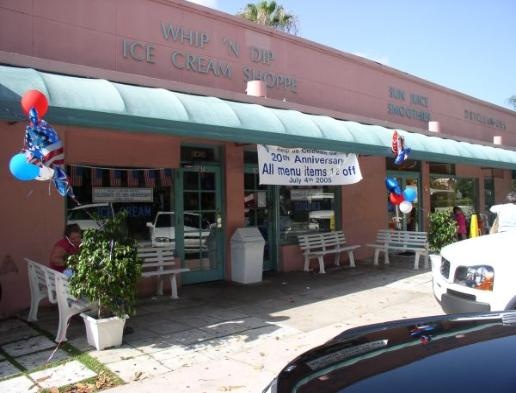 *****  Whip 'n Dip Ice Cream Shoppe, 1407 Sunset Drive, Miami, Florida 33143 (305) 665-2565.
There is an old saying…"That one picture is worth a 1,000 words."…or something like that. Anyway…take a look at the pictures at Whip 'n Dip's website www.whipndipicecream.com and I dare you to give me one good reason why you wouldn't want to get home made ice cream-yogurt- cookies- brownies-baked goods from this joint which has been around for 23 years. If this joint was closer to home, I would weigh something like 536 pounds and be on the Jerry Springer Show.
Whip 'n Dip is open Monday-Thursday 11am-10:30pm, Friday-Saturday 11am-11:30pm and Sunday noon-10:30pm.
One final note…if you do some Googling, you will find that Japan is currently the home to the "banana diet." Supposedly, if you eat a banana everyday for breakfast and drink a glass a warm water, you will be as thin as Twiggy (you are showing your age, if you know who I am talking about) in a few short months. Anyway…I am going to eat one of Whip 'Dip's chocolate covered bananas everyday for 3 months and see if this diet is for real.