Riggins Crabhouse And Seafood Market (Lantana)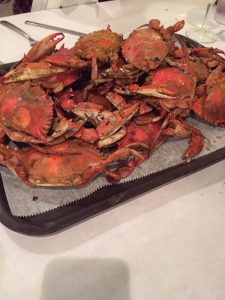 *****  Riggins Crabhouse And Seafood Market, 607 Ridge Road, Lantana, Florida 33462 (561) 586-3000.
Got a real and I do mean real casual seafood joint for you…Riggins Crabhouse And Seafood Market…the table-cloths are old newspapers. Just so you know, Riggins has a hamburger, some chicken wings and a couple of chicken sandwiches on the menu, so if you ain't a seafood-crab lover, skip this joint.
Riggins is a restaurant-seafood market combination. Take a look at the joint's website at www.rigginscrabhouse.com for menu/prices.
This is a real easy going joint. Tee shirts/shorts work well here. Very good  moderatley priced food… with CRABS the real game here. Riggins has been around for something like 20 years and has a very-very loyal following, so figure on a short wait on the weekends.
The joint is open 7 days a week for lunch and dinner.