Rustic Inn Crabhouse (Dania)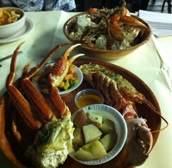 *****  Rustic Inn Crabhouse, 4331 Ravenwood Road, Dania, Florida 33004 (954) 584-1637.
The Rustic Inn Crabhouse has been around since 1955….its name basically says it all…crabs… tons of seafood items. Just so you know, meat/chicken/pasta eaters will be able to "get by" at this joint, but the selection is very limited.
Take a look at this joint's website at www.rusticinn.com for menu/prices/photos…after looking at the site, you should have a pretty good idea what this super-casual seafood joint is all about. If you wear anyhting but tee shirts/shorts you will absolutely positively be over-dressed.
It's joints like Rustic Inn Crabhouse that really define South Florida…open-air-casual-dining on the water. The food is real good…The portions enormous…The prices super-reasonable…The wait-service efficient and extremely pleasant.
Rustic Inn is open Monday-Saturday 11:30am-2:45pm (lunch), 2:45pm-10:45pm (dinner) and Sunday 2pm-9:45pm.