Fu Wing Chinese Take Out (Boynton Beach)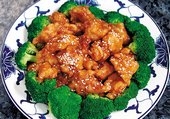 *****  Fu Wing Chinese Take Out, 4784 North Congress Avenue, Boynton Beach, Florida 33426 (561) 434-5990.
The only thing wrong with Fu Wing Chinese Take Out is that it is TAKE OUT ONLY.
This joint makes exceptionally good "NYC style" Chinese food. If you live in Fu Wing's neighborhood, you absolutely-positively want to pickup food from this joint or have it delivered to your home. Terrific won ton soup, egg rolls, bbq ribs, fried rice, sweet & sour chicken, pepper steak…you'll swear that the stuff came from your favorite place on Avenue J in Brooklyn circa 1960.
Slowly but surely, South Florida is getting some decent Chinese joints. The quest continues…stay tuned.
By the way, this "hole in the wall" is open Monday-Saturday 11am-10pm and Sunday 1pm-10pm.