Times Square Pizza Parlor (Fort Lauderdale)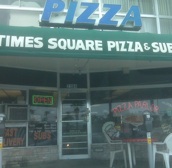 *****  Times Square Pizza Parlor, 2304 East Oakland Park Boulevard, Fort Lauderdale, Florida 33306 (954) 566-7772.
First…Times Square Pizza Parlor located in Fort Lauderdale is owned/operated by different people than those who own/operate Times Square Pizzeria (Boca Raton) which was reviewed on September 14, 2008.
In the never-ending quest to find great "New York Style" pizza in South Florida, I recently had a couple of slices and a large Coke at Times Square Pizza Parlor…by the way, I also had a meatball sub…and I have to tell you, that the slice and sub were terrific. Times Square is an absolute hole-in-the-wall, but does have tons of dishes to stuff your face with.
Now…I am not suggesting a special road-trip down to/up to Times Square, but if you live in the area or just happen to be in the neighborhood…you now know where you can grab a great "thin" slice and a great meatball sub.
Times Square Pizza Parlor is open 7 days a wwek 11am-11pm.