Bagels N More (Fort Lauderdale)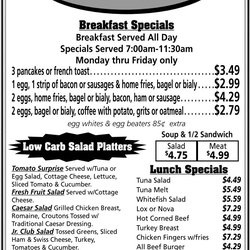 *****  Bagels N More, 2368 North Federal Highway, Fort Lauderdale, Florida 33305 (954) 564-4610.
You know and I know that there are more bagel joints in South Florida, than there are  Chins in a Chinese phonebook (line courtesy of Soupy Sales circa 1964). To be perfectly honest with you, these "hole in the wall" joints are "on paper" basically all the same…decent enough bagels, eggs, appetizing and deli…nothing "gourmet" just nice places to catch a reasonably priced breakfast or lunch…they usually serve "National Brand" deli and open at 7am and close at 3pm. Every so often, "one" of these joints surprises on the upside and does something that makes it stand-out just a bit. Maybe it's the food…maybe it's the service…maybe it's the decor… Over the past few years, I have tried to point out bagel joints that are the "best of breed."
Bagels N More is one of the better bagel joints down here in South Florida. Take a look at its website at www.bagelnmore.net for menu/prices. Besides having delicious food and competent service…Bagels N More offers an array of "specialty" bagels and  "gourmet" sandwiches that most bagel joints wouldn't even attempt…such as grilled mahi and peppered smoked salmon & bacon. For sure, this joint has all of the  "expected" breakfast-lunch stuff, but its willingness to expand  on the basic-bagel-joint concept…makes it a member of the "best of breed."
Bagels N More is open Monday-Friday 7am-3pm and  Saturday-Sunday 7:30am-2:30am.