Phyllis G's Engima (Delray Beach)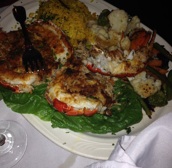 *****  Phyllis G's Engima, 2717 North Federal Highway, Delray Beach, Florida 33483 (561) 243-6372.
One of my favorite "American-Style" restaurants in all-of-South Florida is Phyllis G's Engima. Over the past few years, I must have eaten in this joint at least 25 times. Just so you know, this is not a fancy joint and tee shirts/shorts are just fine…Phyllis G's in a former life, was a gas station.
This joint's menu is packed with soups, burgers, meat/chicken/seafood entrees. I am telling you…the food is as good as the stuff served in some of South Florida's finest-famous-expensive joints. Last night I had grilled lamb-chops ($22) that came with salad, potato and vegetable side, that were absolutely incredible… I also "sampled" the chicken marsala, onion soup and snapper francaise…all terrific.
You "have to"…make that you "must try" Phyllis G's. This is a very casual joint, that gives you tons of great food, at very reasonable prices. Super pleasant owners, easy going servers… complete the package.
Phyllis G's is open 7 days a week for dinner.