Prime. One. Twelve (Miami Beach)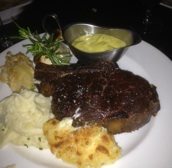 Prime. One. Twelve. 112 Ocean Drive, Miami Beach, Florida 33139 (305) 532-8112.
Prime. One. Twelve. is an "upscale" steakhouse located in "South Beach. For years, friends of mine (who shall remain nameless) have told me that it was an absolutely incredible restaurant and that it was probably the best steak joint that they had ever eaten in. Being the investigative reporter that I am, I and three others gave Prime a shot last night (Saturday)…
Prime. One. Twelve is a an upscale steakhouse that is expensive, even when compared to similar joints like Morton's, New York Prime and Ruth's Cris that dot the South Florida landscape… for example…forgetting about the steaks, most sides go for $13. To be perfectly honest with you, the food was just okay…the chef or the owners must own a salt-mine or something, because every dish from the steaks…carmalized onions… mashed potatoes was oversalted. The steaks were passable, but trust me on this, not worth spending what some people make as a day's pay-for.
Like I said before, this joint is located in South Beach. Last night, it was absolutely packed when we arrived at 8:10pm and still had people waiting to be seated when we left at 10:20pm. This joint is what I call a "scene" joint….People go there to see and be seen. The crowd inside and "hanging-outside" were all pretty sharp looking…Prime isn't just about the food, so let's call it a food-scene joint. Take a look at Prime's website at www.prime112.com for menu/photo/details…by the way, there is a mute button, so you don't have to listen to Frank Sinatra singing in the background…
My personal take-on this dining "experience" is that this joint which draws the well-heeled/celebrity crowd has location, location, location going for it and not much else.
One final and positive note…joints like this, are usually populated by mangers and wait-staffs that do their best to intimidate customers with their "scripted" menu-knowledge (you know what I am talking about)…last night we had one of the most pleasant, relaxed, personable and efficient waiters that I have come across in years…his name is Chris and Prime. One. Twelve has a real winner in this guy…maybe Prime. One. Twelve should let Chris cook the food and re-price the menu…because for right now, as far as I am concerned, the food isn't very good and the prices are absurd.