Boca Pita Express (Boca Raton)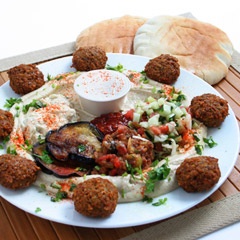 *****  Boca Pita Express, 7158 Beracasa Way, Boca Raton, Florida 33433 (561) 750-0088.
If glatt kosher fast food is your game, I got a real good joint for you, Boca Pita Express located in Boca Raton. Boca Pita covers all of the bases…burgers, hot dogs, philly steak subs, salads, soups, pita sandwiches, sushi and all kinds of Chinese dishes including honey chicken, sesame chicken and  pepper steak.
Boca Pita is an absolute hole in the wall…maybe 25 can eat inside and 10 outside…order at the counter-pickup at the counter.
Tonight I "sampled" a hamburger, spicy sausage pita sandwich and General Tso's chicken…all were delicious. As for pricing, the burger was $4.79, the spicy sausage $8.99 and the General Tso's chicken with a fried rice side and egg roll $14.99.
Like I said before, if glatt kosher is your game, Boca Pita is a place that you should know about. The joint is open Sunday-Thursday 11am-9pm, Friday 11am-3pm…