Manero's Restaurant (Palm City)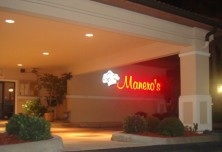 *****  Manero's Restaurant, 2851 SW High Meadows Avenue, Palm City, Florida 34990, (772) 220-3011.
The best way to describe Manero's…diner meets upscale steakhouse. Check Manero's website at www.maneros.com for menu/prices/details.
Manero's is an unpretentious steakhouse. Tee shirts/shorts do just fine at this joint. The menu is loaded with steaks, but seafood "lovers" will absolutely find something to eat. Unlike the "upscale" joints, you won't go for your lungs at Manero's as most steaks "go" for less than $25 and include a gorgonzula salad and side dish…The really beautiful thing about Manero's is the lack of waiters/waitresses who think that they are smarter than you are…If being talked down to, is your game, I can furnish you with a nice long list of South Florida steakhouses who are full of themselves.
Just so we are straight…Manero's is a very good "no-frills" steakhouse. If you are looking for "fancy"…this joint ain't for you.
Manero's is open 7-days a week for dinner 5pm-9pm and for lunch 11:30am-2pm Tuesday-Friday.