Mo's Bagels & Deli (Aventura)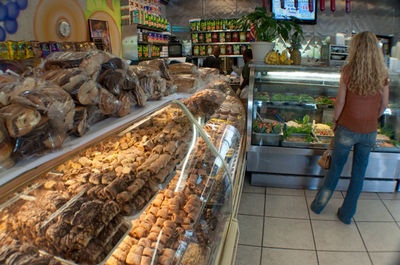 *****  Mo's Bagels & Deli, 2780 NE 187 Street, Aventura, Florida 33180, (305) 936-8555.
Mo's Bagels & Deli is a New York-Kosher Style-Bagel/Deli joint. Mo's is open Monday 7am-4pm and Tuesday-Sunday 7am-9pm.
You know and I know, that South Florida has more New York-Kosher Style-Bagel/Deli joints than there are Chins in a Chinese phonebook…some are good, some are very good, some are great and some are lousy.
If you live in the Aventura area, Mo's (which falls into the very good box) is a joint that you want to know about. Excellent hand-rolled bagels…delicious appetizing…very good deli meats and  other stuff like potato pancakes and soups…clean/large joint…very reasonable prices. The joint is always jammed for Saturday-Sunday breakfast…Enormous take-out business. Mo's is located about 5 minutes from the Aventura Mall.
You now know, what you need to know, about Mo's.