Sergio's Restaurant (Miami)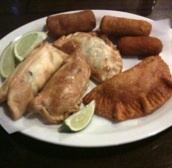 *****  Sergio's Restaurant, 3252 Coral Way, Miami, Florida 33145 (305) 529-0047…9330 SW 40th Street, Miami, Florida 33165 (305) 552-9626…13600 SW 152nd Street, Miami, Florida 33177 (786) 242-9790…8202 Mills Drive, Miami, Florida 33183 (305) 279-3409.
Sergio's Restaurant is a Cuban-diner. There are 4 locations…all in Miami. Yesterday, I had lunch at the Coral Way joint which is a free-standing building, that must seat something like 150 inside and maybe 50 on an out-door patio. When I arrived at 1:30pm every table was taken and there was a 10 minute wait. All 4 locations are open Sunday-Thursday 6am-midnight and Friday-Saturday 6am-3am. From any seat in the house, you can see the open-kitchen area. Suffice it to say, there were so many cooks, waitresses, busboys, counter people working, that I lost count. This joint really bangs out (that's a compliment) tons of food.
If you check, on July 28, 2008 I did a writeup on another Cuban joint named El  Rey de las Fritas. In that review, you will find that I fell in love with that joint's Las Fritas, which is Spanish for Cuban hamburgers. Anyway, I was told by a parking lot attendant in Coconut Grove (go figure), that the Cuban hamburgers served by Sergio's were as good if not better than El Rey's burgers…so the challenge was on.
First let me tell you, that Sergio's has a menu that is as long as your arm…it has all kinds of breakfast items, appetizers, sandwiches, burgers, salads, entrees and desserts. The menu is written in Spanish…with English translations provided in small print under each item. Our waitress spoke Spanish, our busboy spoke Spanish, the hostess spoke Spanish…everyone in the joint spoke Spanish. Lucky for me and my party… that I got a "D" in High School Spanish and the fact, that most if not all of the staff is bi-lingual, so ordering was no problem.
Now for the Cuban hamburgers…incredible. They were right up there with El Reys' burgers…mildly spicy, with a dab of ketchup and mustard and covered in a ton of potato sticks. I had 2 of these really nice size burgers which go for $3.50 a piece. The joint also has a big-old-fashioned "orange juicer" converyor-belt  driven machine which makes fresh juice all-day long…so I had 3 glasses of juice with my burgers. Don't ask me why, but I also sampled 2 scoops of fresh-made chicken salad….delicious.
Anyway…Based on the crowds…Based on the fact that there are 4 of these joints…Based on the long hours that these joints are open every day…Based on the fact that most entrees are no more than 8 bucks…Based on the incredible Las Fritas…I think that Sergio's is a joint that you will absolutely positively want to try.