Myron's Delicatessen (Pompano Beach)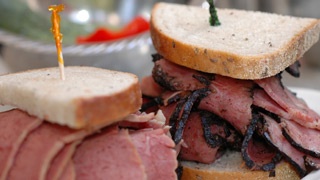 *****  Myron's Delicatessen, 1800 SW 3rd Street, Pompano Beach, Florida 33069 (800) 843-4753.
Last night I played some poker at the Isle Casino & Racing at Pompano Park. After losing only 22 bucks (just in case my wife is reading this) I and a couple of friends had a "bite" at Myron's Deli which is located in the casino-facility.
Myron's is a New York City Kosher Style Deli…the joint is done-up to look like a deli circa 1950s. Just so you know, all of the restaurants at the Isle are owned/operated by the Isle of Capri Casino…take a look at its website at www.isleofcapricasino.com for a list of restaurants/hours/and other details.
Last night, Myron's passed the pastrami, corned beef, brisket test. The sandwiches were nice sized. The meats were as good as those served in your favorite neighborhood bagel joint. As for prices, $3-$4 more than what the local joints get…Hey! come on, the casino is like a movie theatre or an amusement park,  you are what they call a "captive audience," so you pay more, it's just that simple. Have you seen what it costs to "feed" a family of 4 at a Heat or Marlins' game?
You now know about a joint where you can get a nice deli sandwich, soup, knish…assuming Lady Luck hasn't entirely wiped you out.
Myron's is open Sunday-Thursday 11am-1am and Friday-Saturday 11am-3am.