Tasti D- Lite (Miami Beach)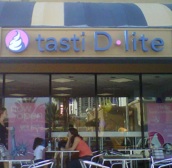 *****  Tasti D- Lite, 821 Lincoln Road, Miami Beach, Florida 33139 (305) 532-6855.
Tasti D- Lite is a "hole in the wall" take-out joint located in Miami Beach…what exactly it sells, I don't know…except that it is called Tasti D- Lite. The best way to explain the "product" is that when you are eating it, it looks and tastes and feels just like the soft serve stuff that Dairy Queen and Carvel make…Tasti D- Lite has something like 100 "revolving" flavors and an ounce of the "whatever-it-is" only has 14-17 calories. The joint also has tons of "toppings" that you can add to the soft-serve.
Tasti D- Lite  which has been around since 1987, has tons of stores in New York and New Jersey, but for right now, there is only one joint in South Florida. Take a look at Tasti D- Lite's website at www.tastidlite.com for flavors/locations/details.
Last night, I had a Dutch Chocolate cone…I have to tell you, that this stuff is absolutely delicious and if it really is as low-calorie as it claims to be… it's every dieter's dream come true. Just so you know, a couple of these cones (one of which had a topping added) ran close to 10 bucks. For right now, I am going to blame the "South Beach" location for the high-price… Based on the fact that Tasti D- Lite recently announced a very aggressive franchise program, I expect to see other South Florida locations in the near future…and my money says that the soft-serve will be cheaper outside of the South Beach area.
Anyway…Tasti D- Lite is terrific. It is absolutely delicious.
The joint in South Beach is open Monday-Thursday 11am-11pm…Friday-Saturday 11am-1am…Sunday 11am-midnight.